Have you ever looked at all of the clothes in your closet and still felt like you had nothing to wear? Same. That doesn't mean that its time to go on a shopping spree though, sometimes you have to shop your own closet to create the looks you're trying to serve. I can't tell you how many items in my closet I forget I have and when I come across them I instantly start creating new looks in my head. My number one rule for shopping your closet is to SWITCH IT UP! If the last time you wore that dress it was for a fancy occasion switch it up and make it casual.

Add sneakers and a denim jacket to turn a night look into a day look. Or a layer a sweatshirt on top and turn that dress into a skirt. Hair and makeup also play a big part in changing up your look so if you wore your hair down the first time put it in a low bun or a top knot. Had on minimal makeup? Go full glam with a bold lip and lashes! Accessories are also a instant game changer so play around with those as well.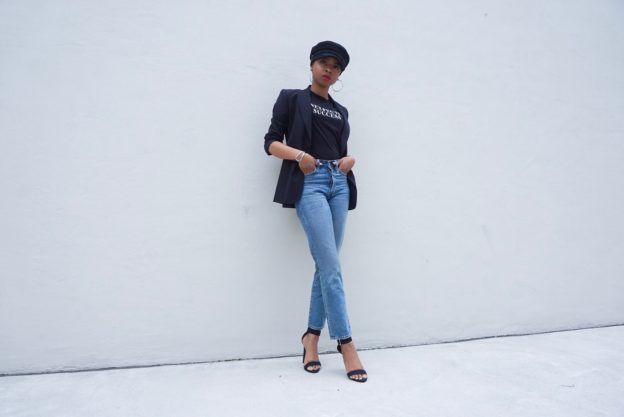 The last time I wore this slogan tee from Zara on the blog I paired it with a gingham skirt and ankles boots. This time around I wore jeans, a blazer, minimal heels and a baker boy hat. Remember what I said about accessories? The hat gave this look a whole different vibe and finding new ways to wear items you already own is the fun part of fashion. Happy Monday!