I've wanted to start a blog for over 5 years now, but the thought of putting myself out there on a regular basis freaked me out a little… Ok a lot. So I procrastinated and put it off year after year even though it was something I really wanted to do. I kept waiting for the perfect time to start knowing there's really no such thing and made all the excuses in the world as to why it wasn't the right time.

Today I'm making my first blog post here on The Stylish Local and I'm so excited! Fashion and writing are two of my biggest passions and being able to express myself creatively is important to me. There are no limits for me when it comes to style, I love to experiment with different looks so my style can vary from day to day. I want this blog to be a reflection of my personality and hopefully a source of inspiration to anyone who needs it.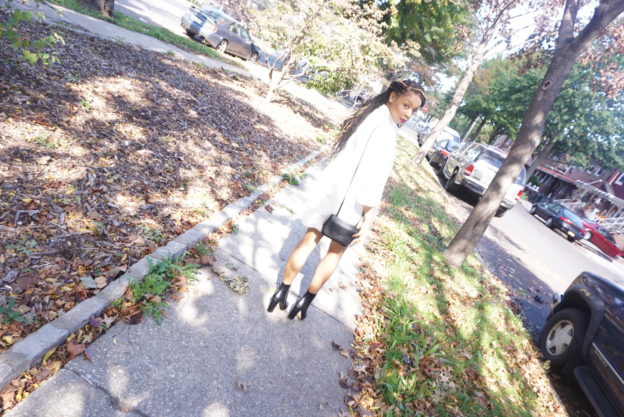 My mood dictates what I wear and I was in the mood to show a little leg today. My dress is from Maje it was actually part of my uniform when I worked there but I LOVE it. The coat is from Club Monaco and it was a gift from my former boss, she was going to sell it but she ended up giving it to me (Thanks Joy!!). My boots are the "Sofie" boot from Public Desire, they are the perfect boots to wear with everything which is exactly what I do. The bag is an old Silence & Noise cross body I got from UrbanOufitters and my choker is from ASOS.