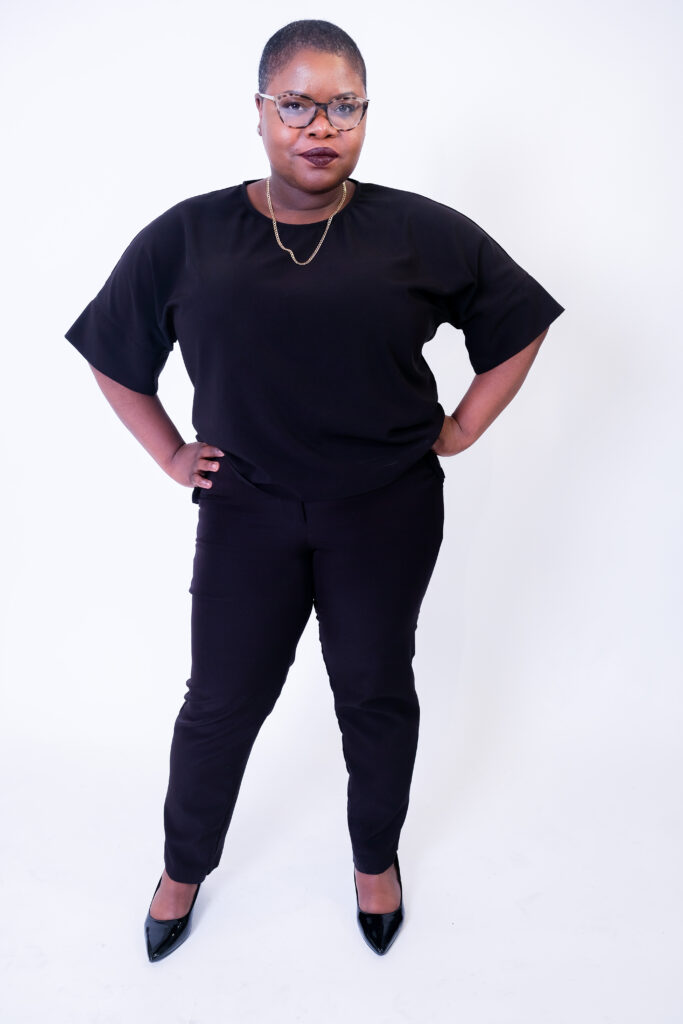 Name: Laura Best
Business: Urban Simplicity by LB – Natural Hair Care and Restoration
Zodiac sign: Gemini
TSL: Why did your name your brand Urban Simplicity and what does it mean to you?
LB: Somewhere around 2009 my life changed drastically; there were a series of unfortunate events that took me into a deep space that I had to save myself from. In order to cope with all that I was experiencing I focused intently on my business. I rebranded everything; the business cards, services offered, pricing, how I received payment, how I conducted business-EVERYTHING. I was also living in a brownstone in Bedstuy Brooklyn. Nothing described the décor and feel of my apartment better than … Urban Simplicity. My salon chair was placed in the center of what was intended to be a living room, but instead became a haven where my community of clients could share their world with me. Surrounding the chair were plants, wood and wicker, and a very large mixture of my homemade oils. These oils are now available for purchase and are known as US oils. Some people often ask why US? First it's an acronym for Urban Simplicity. Two, I was very intentional in choosing a brand that would create a meaningful acronym, US is what I want. All services are about the client first. How do they feel, what do they want, what are you allergic to, what is your happy scent? Listening to your client helps create a healthy and meaningful experience. When it comes to hair what I offer my clients is in the name just like my work space. Styles enriched with cultural essence and showcased in the most beautiful way. Tasteful designs allowing us to penetrate a plethora of platforms that can only be done in the most simplistic way. I want everyone to understand natural hair is beautiful and functional.
TSL: What would you like society to stop doing to women? Society needs to stop thinking women either want to rule the world, carry it on our shoulders, or are incapable of doing either. We can do all of it and can not do any of it alone at the same time. We are hard and soft. We are flawed and flawless. We are the protectors who also need to be protected and covered. And society doesn't get to decide who I am, who we are, this decade, this month, this day or this minute. Society needs to stop choosing a box for us, because we can build our own. And guess what, sometimes we require assistance with the construction.
TSL: Name another woman who inspires you? I am so lucky to have many women in my circle I look up to, this is really hard. This question being the hardest to answer let's me know I am blessed. Hmmm. I really came back to this question several times and each time I added a few more words to the answer and really didn't say shit lol. There are women who survived both illnesses and paper cuts who inspire me. Those who rise to the occasion and are just learning how to walk who inspire me. Mothers, aunts, grand mothers, cousins, sisters etc who inspire me. Lawd help me. Is this really a thing being surrounded by too much of a good thing? Is this what too much sauce means? You know what, let me go with my late momma. Lolita, although you are no longer here in body you are always in spirit. I have never known one person who was always, no matter what, kind to all. This is a level of peace I plan to embody. What she did and didn't do for me made me who I am. There are parts of her I wish were different, but as I grow older I learn these "things" were all part of my divine plan. I appreciate you Lo. You gave me this thing called life and I am forever grateful because of it. To my late Daddy, I love you too Sedwin. These are my built in best friends. they're just in spirit form now. *heart emoji*
TSL: Where do you see your business in 5 years? Oh, I love to hate this question. On one hand it makes you realize all the possibilities, and the other hand omg 5 years is like tomorrow! Of course I plan to expand on my product line. There is more than just US oils; a head-to-toe mixture infused with fresh herbs, essential oils and vitamin extracts. And US balms; a light balm intended for, but not limited to US men. "Sonshine", the first installment is a light balm for beards, lips, and skin blemishes, with a prominent scent of lemongrass. The ingredients are intended to reduce itching, produce growth and blend texture of skin or hair. Stay tuned. My 5 year focus is creating Urban Simplicity Salon Suites. As a traveling stylist I know how difficult it can be to create the perfect environment for every client. I plan to help provide a unique tranquil experience for current and future stylists. A large percentage of my services is all about how my client feels. Their comfort level and privacy is in some cases more important than anything else. I plan to start this project very soon. Stay tuned!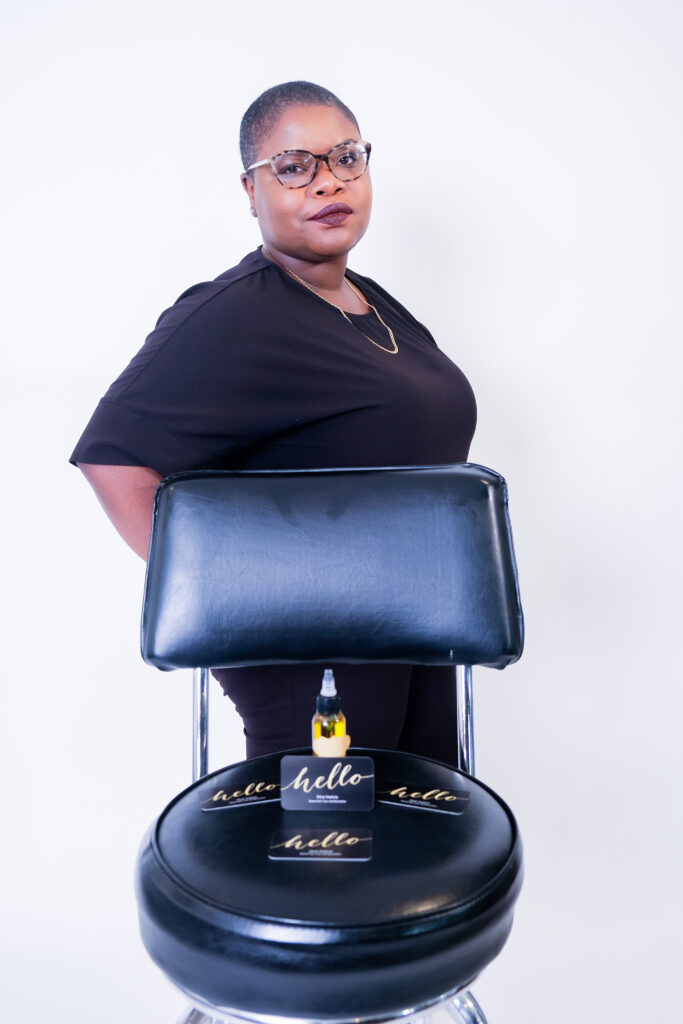 TSL: What does being an entrepreneur mean to you? Financial freedom. Freedom of expression. Freedom to be passionate about an oversaturated market. Freedom to teach and learn from people in your field. Freedom to network and learn from people who are nothing like you. Freedom to hear their stories. Freedom to share yours. Freedom to think about going broke, because doing this one thing is far more important than surviving without something to look forward to. Freedom to love what you do. Freedom to love it the same as your partner. Freedom to meet someone who understands this, and is willing to support this love. Freedom to dream. Freedom to want to share this dream with the world everyday you wake up. Freedom to feel alive. Freedom to take chances. Freedom to fail. Freedom to trust yourself and the process. Freedom to fall 9 times and rise 10. Freedom to succeed. In short FREEDOM.
TSL: What was your first experience with doing someone's hair? I'm laughing out loud because I remember this moment. Tragic, lol. I was 13, one of my friends at the time asked me to do her hair. We really thought she was going to look like a combination of Janet Jackson from the velvet rope cover and the little mermaid. In fact she turned out like some weird love child of Raggedy Ann and the cowardly lion. For the millennials she looked like a terrible version of Trippie Redd and Lil Yatchy, LOL. Listen, I started doing my own hair at the same age she asked, everyone thought I was ready. I was willing, but far from able. LOL. It took time, but what I learned was far more important. In all that I do I am motivated by how I affect the public. How people think about themselves when they leave my chair. No one was able to wrap their hands around how to tame my big, unmanageable, bushy hair. I learned quickly that I wanted no one else to feel this way. Also, I understood very quickly that I could profit from something I thoroughly enjoyed. Win, win.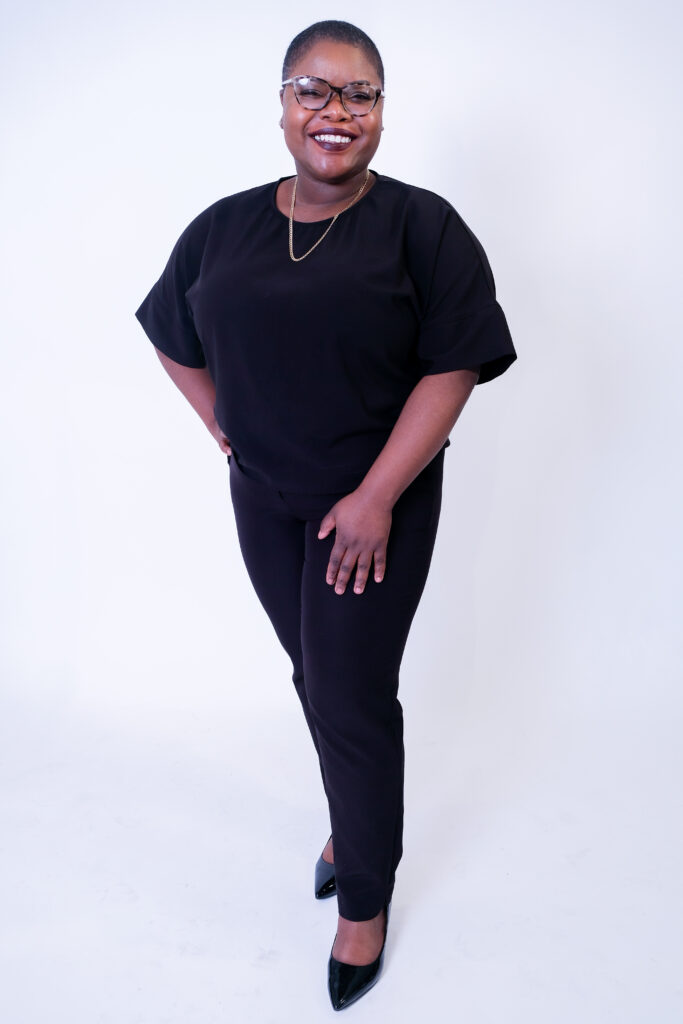 TSL: Favorite song that makes you feel empowered? "Free" by Denise Williams and "Suge" by Da Baby. As a Gemini I am 2 spirits in one body.
TSL: What does urban simplicity offer to those who use your service? Urban Simplicity by LB offers mobile natural hair care and restorative services in a designated amount of time agreed on by both me, the lead and only stylist, and my client. In the time allotted for your appointment you will be provided with techniques both spiritual and physical that will aid in proper hair care and length retention. The services offered include, but are not limited to: homegrown loc maintenance, faux loc installation and maintenance, braids, custom weave installations, cut, color, treatments, and barbering. Products are also provided at each service for long wear care. Urban Simplicity also offers a space to talk about anything! If you were to call anyone of my clients they would quickly tell you I know everything about them. I am more than your stylist. I am more than the artist who uses your head as a canvas. I am your friend, your family, your therapist, your home away from home. I pride myself on the fact that all my clients are referral based. It is rewarding to know people want to share their experience with others. I love and appreciate my community deep, deep.
TSL: Name one thing most people don't know about you? Ashley, I just want to go on record saying I cant stand you for exposing me lol. My business almost collapsed several times, I lost count. I have a horrible relationship with myself which is the reason I pour an immense amount of energy into you all. I never want anyone to ever feel how I feel at my worst. Energy is everything for me. Anyone that truly knows me, knows I will cancel an appointment very quickly if the chemistry isn't right. Also, if I'm not ok. Energy is 100% transferrable, remember that. There were a few times where I almost gave up on everything- EVERYTHING. Urban Simplicity by LB is literally my life. When I feel I have nothing or no one, I have this thing. It's painful at times when my time and skill are not valued the way it should be. Sometimes simply working on my business behind closed doors is extremely therapeutic. This thing that is less about hair and more about the experience is very important to me; therefore, I protect it. Your stories remind me that tomorrow is ok. In therapy I have never discussed my business. It is my most prized possession. I am very protective of it. Your stories remind me that I serve a purpose beyond the tools. I said a whole lot just now. I encourage you to read between the lines and interpret this in a way that satisfies your curiosity.
TSL: Where are you currently in your journey of being a female entrepreneur? I honestly don't know. Maybe the beginning if we are talking about time. I have so much to learn. Do you ever really stop learning? In spirit I was born about this life. I am one of those entrepreneurs that live a double life. I believe in multiple streams of income. I am not just hair. One, Urban Simplicity by LB will be more than hair. It is also about community. I want Urban Simplicity by LB to be more about creating healthy spaces for children and adults of all walks of life. We need to not only run businesses to gain, but also to give. I plan to offer seasonal promotions to enhance the lives of deserving individuals by partnering with some of my fellow entrepreneurs. In the words of one of my closest friends; "you have to network, to get work." Who am I, if not the stepping stone for my community to stand? I also plan to continue incorporating training, branding, editorial work and mentoring in the next few years. I work in the shadows uplifting and lending a host of services to my family and friends. It's how I love, I give.
TSL: Favorite inspiring quote? "Be who you needed when you were younger." We often forget that where we are now is an exact result of what we have experienced as children. Be the good you didn't have, be the push you needed, be the force that makes someone believe in themselves. Be the tough love. Be the no that someone needed to hear. Be the open door. Be the opportunity they missed because they needed to learn humility. Be the person that tells someone your story so they can learn from your joy and your pain. Be the yasssss someone needed to hear to walk out the door with their head held high. Be the person who decided to walk away from a toxic relationship for a person to learn what loss feels like. Be the loud ass cheer person in an audience full of stushy people. Be the person that stays calm while someone vents to you about something extremely ridiculous. Then be the same person who asks them "why do you really care?" Be all of these people you didn't have at the moment you needed so we can combat generational trauma, anxiety, depression and stress. I am a lover of quotes, but this one is one I need to keep in my back pocket, because I too, need a reminder every now and then.
TSL: One goal you have for your business in 2020? Uncontrollable growth. Although I love branding others and will continue to do so, I also place Urban Simplicity by LB's biggest focus on growing US. I plan to incorporate a few new services; micro links, sister locs, and custom order wigs. Consistency, accountability and love. I plan to love myself more than I ever have. How can I consistently give you all something I don't posses? My clients have asked for me to pour into myself what I give them time and time again. I am honored to know you all and to have been loved by you in this selfless way. More trips, more retreats more time doing absolutely nothing, because these acts of self love lead to inner growth. Inner growth leads to expansion of knowledge. Knowledge grows businesses. Business growth leads to satisfied clientele. I leave you with my favorite salutation: More Hair!